High-quality eco-cottage next door to Nuuksio
Spend time in a wonderful setting relaxing in the peace of nature. The large covered terrace overlooks Nuuksio National Park and the private beach is just a stone's throw away. The cottage was completely renovated in 2020 to meet the needs of modern traveller!
7 guests
75 ㎡
4+3 beds
2 bedrooms
Beach
For kids
For pets
Free wifi
Sauna
GENERAL
BUILT 1990, RENOVATED 2020
---
HAND CARVED ROUND LOG
---
SURFACE AREA 75 M2
---
TERRACE 25 M2
INDOOR EQUIPMENT
2 BEDROOMS, LOFT, 4+3 BEDS
---
FULLY EQUIPPED KITCHEN
---
WC, ELECTRIC SAUNA, SHOWER
---
FIREPLACE, DISWASHER
---
WLAN
OUTDOOR EQUIPMENT
PRIVATE BEACH (50 M), PIER
---
ROWING BOAT
---
CAMPFIRE PLACE
---
COVERED TERRACE
---
NEXT TO NUUKSIO
Villa Iivari is a high-quality cottage with a direct view of Nuuksio
Villa Iivari is in its own peace next door to Nuuksio. The villa's large covered terrace is a great place to spend time and the villa's private waterfront and pier invite to take a dip in the lake!
Spacious living room with great views
Villa Iivari's large windows overlook the courtyard directly to Nuuksio National Park. The living room is wonderful to spend time and enjoy the warmth of the large fireplace. The kitchen is fully equipped. In the loft you can take a nap or read a book.
Relax in the warmth of the wonderful sauna
The steams of the sauna are hot, yet pleasant. The spa with its lighting is thoughtful and creates a relaxed atmosphere
Open kitchen area
Villa Iivari's open kitchen is fully equipped. It is perfect for cooking with the whole party and enjoy the blaze of the fireplace. The kitchen offers a direct view of Nuuksio.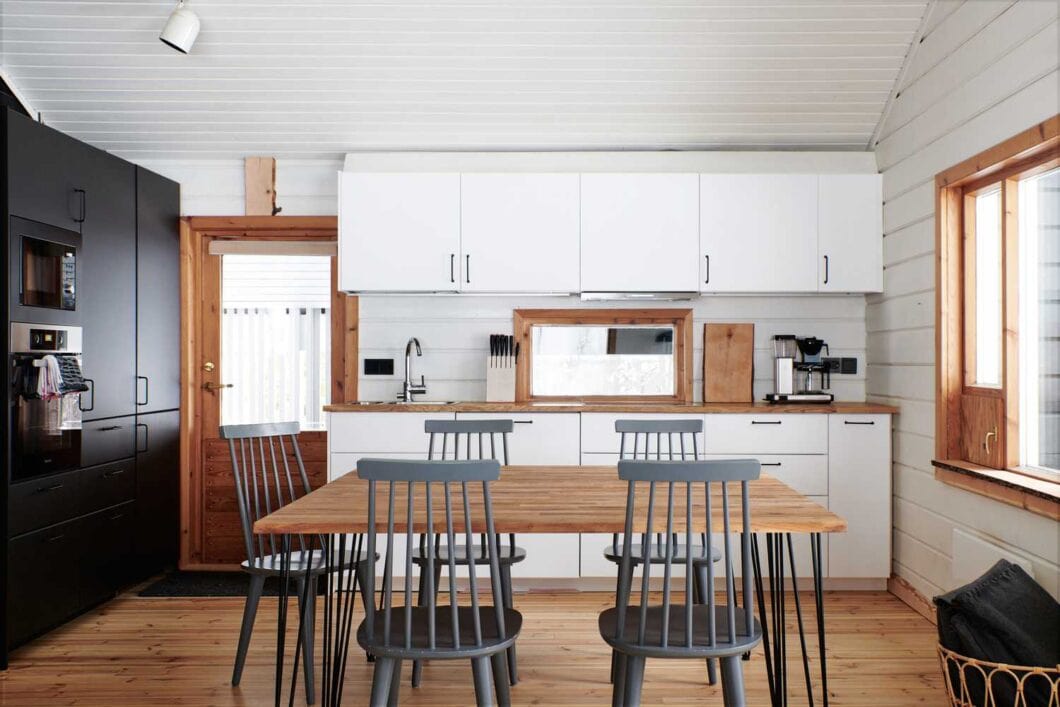 Sleep well
Villa Iivari has two double bedrooms and a triple loft. Access to the second bedroom is via a covered terrace. We sleep well and relax!
Nature and Nuuksio National Park
Villa Iivari is surrounded by the amazing nature of Nuuksio National Park. The cottage has a magnificent quiet courtyard bordering the national park. Play yard games, enjoy being together by the campfire or just take in the calming nature.
In the shelter of the covered terrace you will enjoy the open air
Spend time comfortably on the villa's large covered terrace regardless of the weather. As the evenings dim, it's wonderful to watch the starry sky and enjoy even a glass of wine.
Children are welcome!
We have indoor and outdoor toys for your children. We will be happy to provide you with a high chair and a crib as an additional service.