Guided hikes and activities in the Nuuksio National Park for our guests
Hawkhill is more than just stunning cottages. It is also lovely nature experiences all year round!
Combine cottage holiday and amazing summer activities
We arrange a variety of summer activities for our guests. Go for a guided trek to the surrounding Nuuksio National Park or try out canoeing for the first time. All from your cottages door step!
We have selected for you a perfect set of treks and activities that have been proven enjoyable and are very liked by our customers. Our experienced guides will make sure that all adventures are enjoyable.
Please note that the activities are only available for guests that are staying in our villas and for companies organising their company events or wellbeing days at our premises.
Relaxing experiences throughout the summer
Hawkhill is the perfect place to enjoy the Finnish summer. You can hike in the woods, pick berries in the fall or even rent mountain bikes or a SUP board from us. Your nature adventure awaits!
Experienced local guide at your service
We want you to have the best possible nature experiences when staying with us. We only use experienced guides that ensure your security and take care of your needs.
Guided hikes to the Nuuksio lakeland
Experience the magic of the Finnish nature; feel the beauty of mossy forests, smell the scents of bog and watch the stillness of a glimmering forest lake. With luck, you will spot wildlife around you – deer wandering around, perhaps, or a black-headed woodpecker busy at work. The familiar smell of campfire lures you to enjoy soft open fire-cooked coffee and tasty outdoor snacks.
Option 1: Nuuksio high lights by Hawkhill – easy, 2 hours
Guided hike around the rugged Hawkhill and silent lake Liukoi. See Nuuksio National Park's key elements: wilderness lakes, bogs and rocks. Take a small break at the top of the rock to enjoy the snack of the day, washing it down with refreshing lingonberry juice and organic coffee from thermos.
Option 2: Five forest lakes through silent highland – moderate, 5 hours
Explore the silent forests of Nuuksio with a wilderness guide. See five beautiful lakes, climb over the rocks and pass through the boggy lands. Enjoy traditional rye bread and salmon, buns and coffee from thermos with lingonberry juice by the most beautiful scenery of the Nuuksio lakeland.
What's included: Trained wilderness guide who will take you for a guided walk, snacks for the walk.
Ask for accessible hikes with terrain wheelchairs!
Bog Know-How and Alien Species
We're restoring biodiversity – want to help?
Did you know that 30% of Finland's area used to be bog land? Bogs are Finland's most important carbon sinks. Here at Hawkhill, we are restoring our bog lands as a carbon sinks to do our part in curbing climate change. Come learn, see and taste what it is all about with guided tour. If you want, you can lend us a hand!
Your guide will take you through Hawkhill to the beautiful Haukansuo bog area, and you will learn about plants, berries and the bog ecosystem. You will also learn about the mythology and history of boggy lands, and see the restoring process first hand. After returning to Hawkhill, you will learn about alien species and see the biodiversity work that is done here. If you want, during the tour you can join us in the practical work of getting rid of alien species, hands on.
Duration: 2 hours
Pax: 1-10 persons. Max 20 persons.
Availability: May 1 to Oct 31
What's included: A guided tour through the Haukansuo bog, with a chance to give back by joining us in removing alien species from the bog in practice. Along the walk, a snack with a taste of bog is served.
Proper water-proof shoes or e.g. rubber boots are recommended!
Atmosphere and Taste of Finnish Bog
This hike leads you to the Haukansuo bogland, located just below the hill of Hakwhill. Surrounded by the unique atmosphere of the bogland and the surrounding Nuuksio national park, the hike allows you to experience the Finnish swamplands with every sense – get to know its delicacies as well as learn about its mythology.
During the hike, the participants will learn about bog ecosystems, their role as carbon sinks as well as their crucial importance in protecting biodiversity. We will also introduce the participants in the work we have done to restore the biodiversity of Haukansuo, and talk about how bogs were originally formed, their history, ancient beliefs related to them, their fauna, wild herbs and their medicinal properties.
We will take a moment to rest, sitting on top of tree stumps, just to enjoy the peace and silence – forget all about the worries and pressures of everyday life!
The afternoon tea will await us hanging from a pine tree branch, neatly backed in rugsacks. The tea offering is enriched with the tastes of the swamp, respecting the Finnish culinary tradition and artfully combining it with the traditional British concept of tea serving, known and loved by all.
Duration: 2.5 hours
Pax: 1-10 persons. Max 20 persons.
Availability: Throughout the year
What's included:Trained wilderness guide will take you for guided walk, tea serving included.
Easy fun with standup paddleboarding
We have 7 SUP boards available for rent – a great idea for those looking to try paddleboarding in a fun and relaxing way, as well as the more experienced adventurers looking to explore the lake.
At first, our guide will take you through the basics of standup paddleboarding, and then you will receive your own SUP board. You get to try easy balancing exercises close to the beach. If the group has the basic skills covered, we can paddle further. For those preferring to just observe the programme, there is one row boat available to join the journey on.
Duration: 60min
Pax: 1–7 persons
Availability: From May to September
Canoeing experiment from your doorstep (accessible)
Guided canoeing experiment starts, when your guide Risto picks you up from your private pier at your cottage. You will learn the basics of paddling and maneuvering the canoe. You get view the beautiful forest from the serene forest lake. After the canoeing excursion, you can enjoy barbequing sausages and making pancakes and making coffee by an open fire.
Group: 1-10 persons
Duration: 2h
Included: Guide, canoe and life jackets
We also offer more challenging full and half day canoeing excursions to Nuuksio National Park!
Fatbike or mountain bike ride
Invigorate your mind and body with our Fatbike Ride that takes you through the Nuuksio forest, through paths that are great for a bit of offroad-spirited cycling! The Nuuksio lake highland offers many different paths and trips to choose from, meaning there is a suitable option for everybody from beginners to avid fatbikers.
There are two different options to choose from in terms of how physically strenuous you want your ride to be: either regular fatbikes are used, meaning you will power your ride with your muscles alone. The lighter option is to use e-fatbikes that use electricity to make the riding experience physically less demanding.
Duration: 90 minutes
Pax: 1-10 persons. Max 20 persons.
Availability: all year round
What's included: an experienced tour guide, the bike fit for your needs, and a bike helmet
If you prefer, we can also opt for regular mountain bikes instead of fatbikes.
Wild herbs: CO2-free nutrition
Hawkhill's Wild Herb Course is a great way to get to know the most common wild plants that are easy to find in Finnish forests and meadows. You will get the best tips on how to identify, forage, handle, preserve and enjoy the plants. A trained wilderness guide, who is an eager wild herb enthusiast herself, will be your guide, happily sharing her tastiest recipes with you.
Wild herb harvesting is a hobby that is inexpensive, very easy to start and can be done in many different locations and has a zero CO2 footprint. Once you start, it's hard to stop!
Season: from May to September
Group size: 1-10 persons (max 40 persons)
Duration: 1 hour
What's included: A light hike with a trained wilderness guide with wild herb knowledge, examples of the plants, tips and tricks and ideas preserving.
Ask more and add to your programme:
Fascinating wild herb tea tasting
Intriguing wild herb lecture, 1 hour
Delicious wild herb dinner by the fire
Wild herb foot salt workshop with your own bag to take home
Build a Bug Hotel or Bird House
Hawkhill is the home for thousands of bugs and birds, and they were here before us. Now, nature loss is accelerating and biodiversity is declining. We want to do every possible act to fight this, and we challenge you to help us – and learn the skills to take action against nature loss at home too.
Workshop for making bird houses. Learn the proper way of making a bird house for different species, make one and set it into the woods of Hawkhill. During the workshop, you will learn about local birds and their life.
OR
Workshop for making bug hotels. Help bugs to survive by building bug hotels and setting them by Hawkhill's meadow. During the workshop, you will learn about the importance of bugs and their crucial role in the ecosystem.
Duration: 1 hour
Pax: 1-10 persons. Max 20 persons.
Availability: May 15 to Sep 15
What's included: Hands-on instructions and guidance to build a bird house/bug hotel by a local specialist.
The Hawkhill Sauna experience
At Hawkhill, you can discover the unmatched rejuvenating powers of the authentic Finnish sauna experience – by a calm forest lake, surrounded by the Nuuksio National Park. Sauna is all about unwinding and relaxing, and that is exactly what this program offers to you.
The evening starts with welcome drinks on arrival at the villa, where one of us Hawkhillians welcomes you. While the sauna is being heated, your host takes you for a guided tour around the forest, where you will learn more about the healing magic and history of sauna and the forest. When you get back, the sauna will be ready and the lake is waiting for you. During wintertime, you can try ice swimming – if you dare!
As the absolute highlight of the evening, you will enjoy a delicious three-course dinner, courtesy of our Chef. Inspired by the pure nature of the Finnish forests, the menu is rich with fresh, locally sourced products. Perfect relaxation for the mind and the body!
Season: spring, summer, fall
Duration: 5.5 hours incl transportation
Availability: From Jan 10 to May 31, and Sept 1 to Dec 20, Sundays to Thursdays. Friday-Saturday price by request.
What's included: Fully equipped private log villa with sauna by the lake, towels, organic shampoo and soap, welcome drinks, three-course meal, guided walk to nearby forest. (Alcoholic beverages are not included.)
Sweat and Sisu Before Sauna
What feels amazing? Sauna. What feels even better? Sauna after rigorous exercise. For many Finns, working out a sweat and relaxing in sauna afterwards are a loved combination that increases a sense of wellbeing and treats the body. But, as they say, no pain, no gain – that famous Finnish sisu is the final ingredient needed to make it just perfect. This is the class to take at Hawkhill if you're looking for a wholesome physical challenge and experience.
The class is tailored to the season, weather and the group wishes and needs – but this one requires at least a moderate fitness level and basic coordination from all the participants, as well as readiness to push yourself a little. By combining hiking, running, climbing, body weight training and/or rhythmic exercises, our experienced instructor takes you through a fast-paced class during which you will be seeking and testing your own sisu as well as giving your body the challenge it deserves. The sauna will be heated and ready upon your arrival back, and refreshments ready.
Duration: 1 hour of exercise + 1 hour of sauna
Pax: 1-8 persons. Max 25 persons.
Availability: all year around
Learn cooking by the fire with our wilderness chef
In Finland, the most traditional way of cooking is using open fire for cooking. Our wilderness chef Anssi is specialised in cooking by the fire, in many different ways. Our one-of-a-kind outdoor open-fire kitchen is a perfect place to learn secrets of the open fire cooking.
Cook a delicious three-course dinner under the guidance of a wilderness chef who will hand over all his delicious recipes. The ingredients are sourced locally and include wild herbs and with positive co2 footprint..
Starters
Forest mushroom or nettle soup with flatbread
Main course
Smoked or flamed local fish with veggies of season
Dessert
Pancakes or French toast with forest berry jam and spurge syrup
Season: from May to September
Group size: 1-5 persons (max 15 persons)
Price: Min. price €750, €130 per person thereafter
Duration: 4 hours
What's included: The hire of hut, a trained wilderness chef for 4 hours, cooking ingredients, tips and recipes for wildernes cooking, firewood, gloves, apron, course certificate, a delivious three-course meal experience.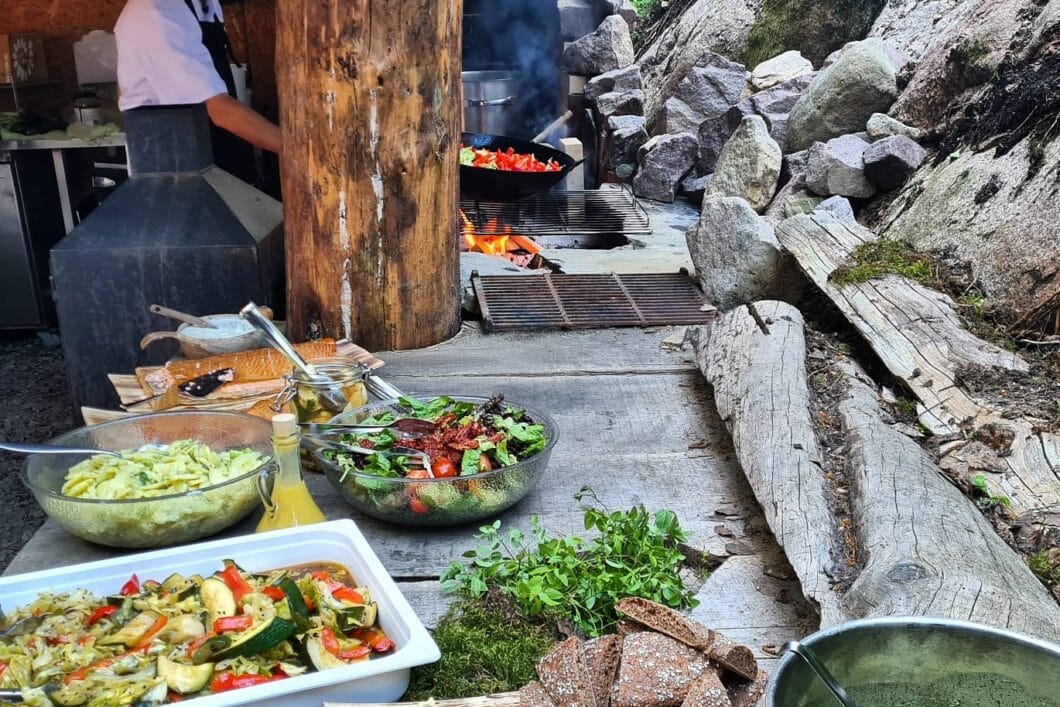 Ice sculpting class
You can do ice sculpting all year along! An ice-sculpting professional will teach you the basic tools and techniques of ice-sculpting. You are then divided into small groups and you will get to sculpt the figures of your choosing. This might sound hard, but the results are impressive even for beginners as seen in the picture!
Season: all-year (excl. July)
Group: 1-16 persons
Duration: 2h
Forest riding in the national park
When you arrive at the staples, the horses are ready for you. You will go trough the basics of riding safely before heading out to the paths of the Nuuksio National Park.
Guided ride includes: guide, horses, equipment and transportation if needed.
Season: spring, summer, fall
Group: 4-10 persons
Duration: 2h