Basics of regenerative travel and real-life examples of what it means in practice
Dubbed as the potential saviour of the entire travel industry, regenerative tourism is a trend that is set on growing at a speed. Here is a comprehensive look on what regenerative travel means, along with very concrete examples.
What is regenerative travel?
In simple terms, regenerative travel means tourism that leaves the destination in a better shape that it was before. This is a step up from sustainable tourism that seeks to not cause extra burden to the destination.
The more complex explanation, however, is that regenerative travel is an attitude that can and should be incorporated by everyone involved in tourism. Not only the tourists themselves, but also travel agencies, transport providers and especially the service providers in the destination. In regenerative travel, they would all build the industry on the idea that tourism is meant to provide experiences for the tourists, sustainable financial means for every business involved, but equally importantly improve the livelihood of the destination both environmentally and otherwise.
The idea of course is not new – ecotourism, which trended in the 1990s, was a very closely related yet a narrower trend. It was followed by voluntourism, a commendable trend as well, if perhaps too focused on the traveller's needs instead of those of the local environment. Previous experiences highlight that local insight and integrity are crucial to ensure the tourists genuinely have a net positive impact on the destination.
Like all new and complex ideas, regenerative travel can feel difficult to approach. We wrote this article to make it a little easier – usually concrete examples help with understanding new possibilities.
Regenerative travel example 1: restoring local ecosystems
Climate issues are global, however protecting ecosystems always takes place locally. This is why they are an important dimension of regenerative travel.
Offering this option to the tourists is still uncommon – we are hoping more service providers would catch onto the trend. With a bit of effort and maybe a touch of creativity, it is possible to find something to restore in every destination. Is the local ecosystem burdened by invasive species? Here in Finland, for example, large-leaved lupines – natives to North America – are an invasive species growing rampant especially in the ditches. We have organised local efforts to root them out – this year we cleared out 6,000m2 from our meadow. This could equally be an opportunity for our guests as well, if they want to do something concrete to improve the environment of their travel destination.
Our larger effort, however, has gone into restoring our bog Haukansuo here at Hawkhill. Together with the Nuuksio National Park and Parks & Wildlife Finland, our efforts are estimated to bind between 12,000 and 15,000 kg of CO2. To our guests, we offer guided walks through these beautiful sceneries, but also opportunities to participate in building deadwood fences on boglands.
These regenerative travel examples are specific to Finland, however we are sure similar activities could be done in every travel destination.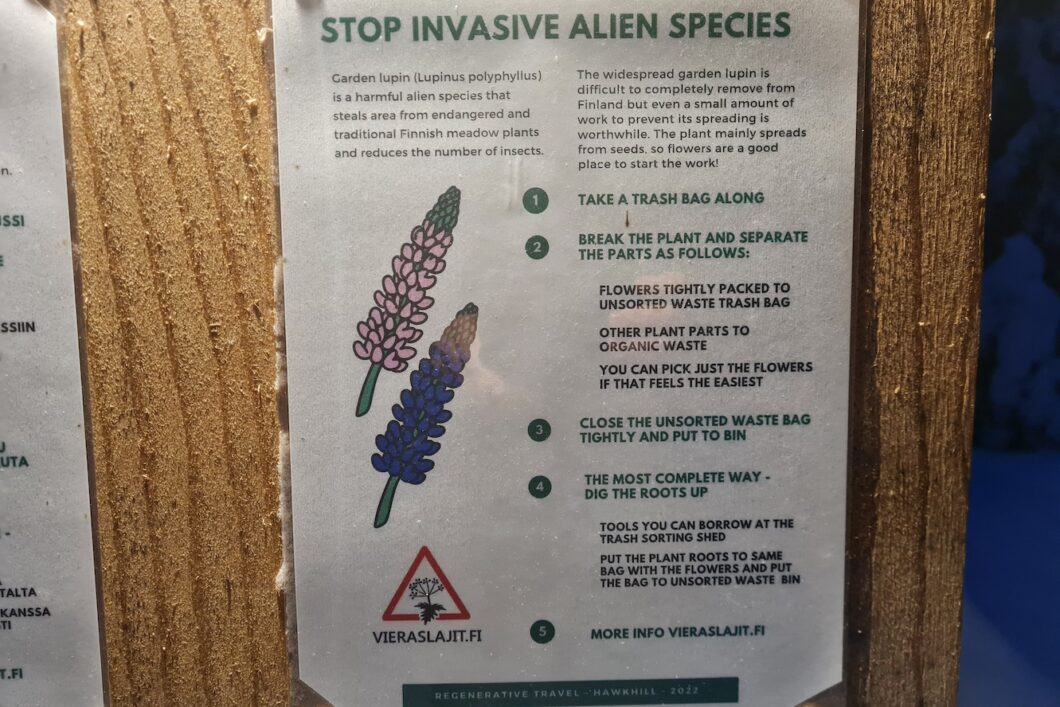 Regenerative travel example 2: supporting important species
This could mean increasing the livelihood of endangered species or species that are critical to the ecosystem. One great regenerative travel example – and one we also offer at Hawkhill – is to participate in building bug hotels to increase the livelihood of bugs. Our guests have embraced this activity with open arms – together with them, we have gone from building simple bug hotels to creating entire resorts for them.
Another great and quite obvious example is of course the pollinators. Critical to the entire global ecosystem, supporting pollinators is important in every location they inhabit. Travel providers can take the opportunity to increase the livelihoods of their local pollinators and offer their guests an opportunity to participate in this work.
Regenerative example 3: choosing regenerative service providers
For travellers, this example is above all about choosing not just sustainable but actually regenerative options whenever they are available, whether it is about the means of transport, accommodation or activities.
For service providers, this is about taking a new look into your business and how it could contribute to the surrounding environment in new ways. The travel industry has undergone devastating global upheavals as of late, so it can be hard to find this perspective. It is worthwhile, however, because it is quite certain that travel and tourism are changing for good, and regenerative travel is not just the ethically sound direction but also the financially sound one.
What could this regenerative travel example mean in practice, then? Here at Hawkhill, for instance, we are continuously seeking new ways to improve the environment and society we operate in. Besides doing all the 'regular' sustainability work, we have e.g. participated in protecting our local lake Enäjärvi, stopped using any fertilisers on any lands that we own, and donated a portion of our profits to the local food bank ViaDia. In addition, our guests can borrow a variety of outdoor activity equipment free of charge – so they will not have to buy their own or carry these with them. Instead of building a kitchen on site, we are renting out the otherwise unused kitchen of the local school building. The rent we pay contributes to the livelihood of the local village community that is renting out the school building facilities. Indeed – regenerative travel always requires engaging with and developing the surrounding community.
How to get started?
As regenerative travel is still very much an upcoming trend, there is not yet a lot of information available on best practices and ideas.
As we strive to be forerunners of regenerative travel, we hope this article sheds some light on regenerative travel examples and how the future of travel might look like in practice. We strongly encourage travellers and providers alike to embark on this journey, to ensure both the sustainable future of the travel industry as well as the livelihood of local environments and the global ecosystem.