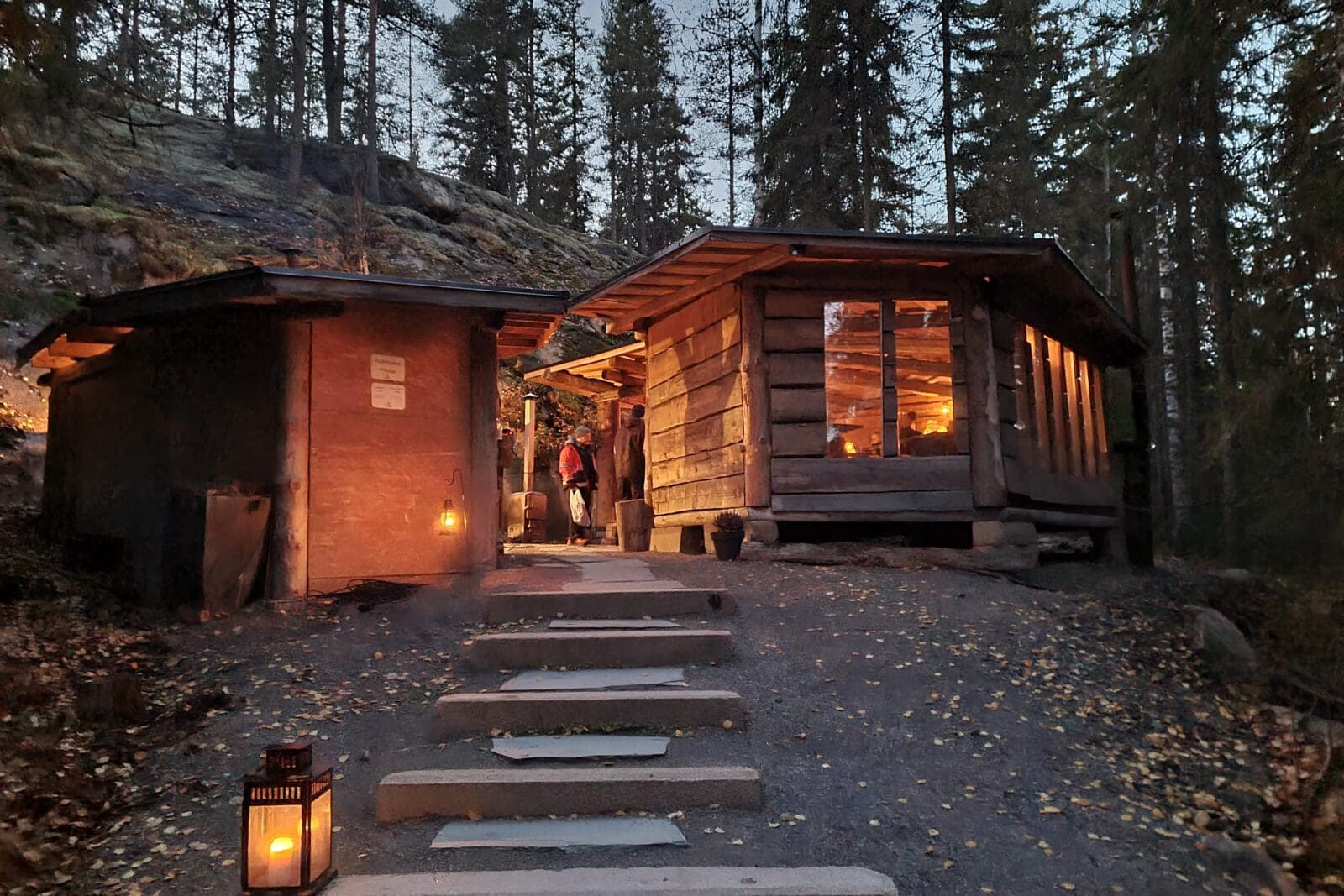 Our banquet hall – Korpela Laavu
Hawkhill's laavu, a traditional form of Finnish wilderness shelter, on the edge of Nuuksio National Park is one of the most breathtaking in Southern Finland. It serves as both an event venue and the dining hall of Hawkhill's Forest Restaurant. The laavu and the steep hillside of Haukkamäki combine to create something truly special.
Hawkhill Forest Restaurant's dining hall – Korpela Laavu
Hawkhill's laavu is among Southern Finland's most breathtaking. It functions as a conference space, dining hall, get-together spot or even cocktail party venue. Nestled among the trees on the side of a rocky outcrop, the shelter conjures a magical atmosphere, and our restaurant ensures it comes with the perfect meal for the occasion.
The laavu is available for booking from spring through autumn.
Add an unforgettable experience at Korpela Laavu to your stay at Hawkhill
If you're looking for something exceptional to add to your vacation in Nuuksio National Park or your company's event, why not try dining in the lap of the Finnish forest at Hawkhill's laavu.
Take an unforgettable wilderness cooking course at Korpela Laavu
One of Korpela Laavu's specialties is wilderness chef Anssi Lohvansuu's wilderness cooking course. Try your hand at campfire cooking and learn its secrets with Anssi. In the process, you and your team will get to enjoy a delicious four-course meal at the laavu. The course is an excellent choice for any company outing.

Duration approximately 5 hours
Appropriate for groups of 2–20
Wilderness chef Anssi's Laavu Menu
Hot game soup with malted bread fresh from the gridiron LF
*****
Alder-smoked rainbow trout straight from the smoker LF, GF
with seasonal garnishes
*****
Campfire pancakes with jam and whipped cream LF
(guests can also participate in preparing the pancakes)
Laavu Fine Dining – for an enriched experience
We offer a fine dining menu at the laavu. Designed for groups of 2–12, it is an enticing experience served to your table. Working at the campfire, chef Mari Hyyryläinen plans and prepares an unforgettable meal using seasonal ingredients. The food is served under the stars at sheepskin-draped tables by the light of candles and lanterns.