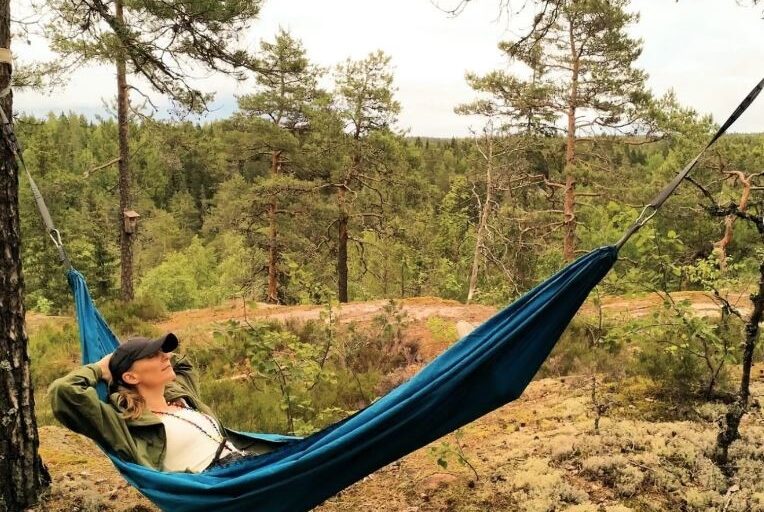 We work for the well-being of tourists, staff and the local community
Well-being of our guests
We want to offer our customers a holistic and meaningful experience. That is why we welcome all our guests personally and introduce them to the cottages as well as the surrounding area. That way, our customers get the most out of their relaxing cottage experience.
We offer our guests opportunities for climate action and support for the region's natural and cultural diversity, among other things, in various workshops. We are also currently developing our offering of restorative travel.
Convenience of our guests
In addition to our paid activities, Nuuksio nature also offers free activities throughout the year. Our cottage village has its own lending facility available for our customers, from which you can borrow various sports and outdoor equipment free of charge, regardless of the season.
We also welcome cyclists, provide safe storage for bikes and, if necessary, a pump and basic tools.
To our guests' delight, we opened an art trail that showcases the works of local artists Reija Virtanen, Maaria Melin, Johannes Lahtinen, Kirsti Ala-Outinen and Annu Huotari.
Diversity, equality and inclusion
It is safe for everyone to arrive and stay at Hawkhill. We do not accept discrimination on any grounds.
We support human equality, diversity and inclusiveness 365 days of the year. This can be seen above all in the attention of guests and in the respectful behaviour of other people, but also in small details: In the summer, the Haukkamäki goblin plays the notes of equity on his rainbow tart, at Christmas time we light the rainbow lights on our Christmas tree.
Accessibility
We have three accessible villas: Villa Maria, Villa Taavetti and Villa Eino.
Some of the activities we offer are well suited for people with reduced mobility. You can also rent a mountain bike chair through us.
Hawkhill as an employer
We pay fair wages to our employees and take care of their well-being. We reward our staff for development ideas that promote responsibility.
We also want to offer opportunities to young people. In fact, we continuously collaborate with the local school and Kiipula Foundation, which offers education and rehabilitation activities, by enabling visits, restoration workshops, internships and grants to students, among other things.
Hawkhill as a partner
We take care not only our staff and customers, but also the residents of Tervalammi village and our cottage neighbours and subcontractors – we want to offer good for the residents of the area. We use the services of local small entrepreneurs, employ people nearby and want to develop the services of our village.
In addition, we organize and coordinate events that bring together local actors, participate in panels and share our expertise in other ways to promote responsible tourism together with other companies in the industry.
We are part of the Nuuksio Lakeland business network, which aims to make our area an easily accessible and attractive nature tourism destination for domestic and foreign visitors.