Hawkhill Forest Restaurant
Hawkhill's Forest Restaurant is a unique private dining concept available to all Hawkhill guests. Whether you're organising a conference or a party, our restaurant is here to cover all your dining needs.
Dine on food made from fresh Finnish ingredients
Our combination of the traditional and the modern also extends to dining services. We want to offer our guests the best Finnish dining experience out there, with personalised service.
Hawkhill's Forest Restaurant offers private dining for groups large and small. We bring a high-quality, sustainable restaurant experience to our guests at our cottage resort.
You pick the place
The Forest Restaurant's services are available anywhere in Hawkhill Cottage Resort. You could choose to dine at our traditional wilderness shelter Korpela Laavu, at one of our cottages or in the lap of the Finnish forest.
Locally produced food, organic food and a small carbon footprint
We use Finnish berries, mushrooms and wild herbs, locally produced ingredients and organic products wherever possible. We strive to ensure our food has a low carbon footprint by offering delicious vegetarian options. The meat we serve is either game or produced sustainably and locally. Our fish is sustainably farmed and ASC certified.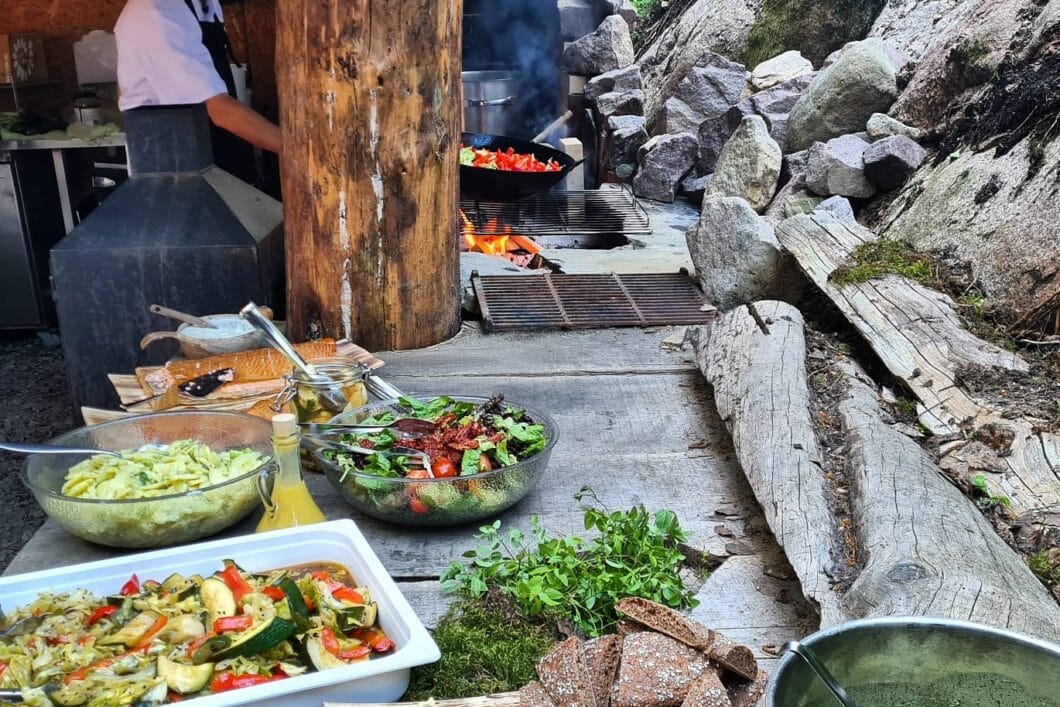 Delicious, hassle-free dining for any occasion
No dining challenge is too great for Hawkhill's Forest Restaurant. For conferences, we organise any catering from breakfast to dinner, delivering it to your table or the front door of your cottage.
Don't forget to enquire about our private cottage chef service, fine dining menus and wilderness chef services.
Hawkhill Forest Restaurant services